I: How Facebook Works
The way Facebook works is fairly straightforward.
There are several steps involved:
Step #1: Select A Marketing Objective
Step #2: Select Your Audience
Step #3: Set Your Budget & Bid
Step #4: Compose The Ad
Where the magic happens, however, is in the execution.
Most people do one of two things on Facebook:
#1: They promote for page likes, and boost posts to those page likes. Typically in the form of memes.
#2: They run ads to cold audiences (people who don't know about you) hoping to get sales (which rarely happens).
These approaches are intrinsically flawed and it's why the world of "Madison Avenue" has long resisted the rise of social media advertising.
Small business owners commit equally egregious mistakes, most I would argue, are making the biggest mistake of all:
Ignoring Facebook all together.
There are now upwards of 2 billion people using Facebook on a monthly basis, most of which login to the social network daily:
As a result, there has been a dramatic decrease in the consumption of traditional media such as TV, newspapers, magazines, radio, and so on.
That's to say, if you're planning to run a successful business for a long time, you need to be advertising where people are watching.
What I plead you to do, however, is committing to doing it right.
Most people that say advertising online doesn't work is simply because they don't do it right.
If advertising online really didn't work, Google & Facebook wouldn't have a combined market capitalization of over $1.25 trillion, since 90% of their revenues comes from advertising.
With that, let's talk about how to REALLY have success with Facebook Ads.
II: Marketing Funnel
Facebook is like dating.
If you want to marry somebody (i.e. have them "commit" to you as a customer), you have to take them through a courtship process.
#1 – Have a conversation
#2 – Go on a few dates
#3 – Date for a number of years
#4 – Meet the family
#5 – Move in together
#6 – "Pop the question"
When it comes to Facebook, much the same is true.
For Facebook Advertising to be truly successful, marketing should be approached from the paradigm of building relationships with your potential customers.
Most people go direct for the sale.
That's the equivalent of asking a random person at a bar to get hitched.
It's inefficient and inherently wasteful.
Facebook is unique in that it allows you to build relationships with your audience and "warm them up".
With TV, you would run a 30-second ad, and then you'd hope that it would work.
The problem being that you had no way of knowing who watched it, who liked it, who even saw it, and so forth.
On Facebook, you know exactly who saw it, how much of it, whether it resonated with the audience, and much more:
From this information, you can then choose to advertise only to people who stayed for more than half the video, this would mean that you'd be going after people who would be the most interested in your service. Doing so would dramatically increase the efficiency of your advertising dollars and produce significantly higher returns of investment.
This ability to segment audiences within the platform is why Facebook is the arguably the best advertising platform right now. You can also reach 100% of the marketplace, as opposed to Google; and the returns on investment are considerably more attractive.
With that, let's go over a practical template for effective Facebook marketing.
The key is to build targeted content assets that you can drive traffic to.
The purpose of each asset will be defined by where in the "funnel" the person would be. For example:
Content #1: Teach People Why It's Important to Get Their Teeth Cleaned 2x Pear Year
Content #2: What Happens If You Don't Brush Your Teeth 2x Daily (the article would lead to a "contact" page)
Content #3: Here's Your Chance to Book An Appointment (50% Off New Client Special)
Content Piece #3 would be designed to get as many people as possible to book the appointment, since by this point they would understand the benefits and dangers of not brushing and / or having your teeth checked regularly; in addition, they would also be aware of your presence and see your brand as the "Go-To Doctor" in your area.
Here's an example, in practice, for a dentist in Coral Gables, FL:
To continue with the example from the previous post, I took the address of the office displayed on their ad, and input it into Facebook:
Then, I selected every person above the age of 24 that lives within a 3 mile radius of this address:
Facebook then tells us there are 920,000 that meet these specific demographics:
With a $50 / day budget ($1,500 / month), Facebook estimates we'd be able to reach 1,800 people per day; however, this tends to be off by a bit.
Most likely, as in my case, this budget with this audience would reach around 3,000 people per day and collect upwards of 2,500 video views.
That's around 100,000 people reached per month, and something in the vicinity of 75,000 video views.
The video should look like this, ideally:
Simple, and compact.
Then, you'd elect to choose yet another video or text ad to people who saw at least 10 seconds of the first video.
This would make it so we'd be targeting those who are most interested in the topic or service.
From that second ad, we'd then do the same thing, and target people who engaged with the ad.
Now we would have built sufficient interest that we can "ask" for the direct sale, it is at this point that you would run an "pitching the service", typically with an enticing offer:
50% Off New Client Special
First Consultation Free
etc..
Here are great examples of these "pitch" ads that I found from the internet: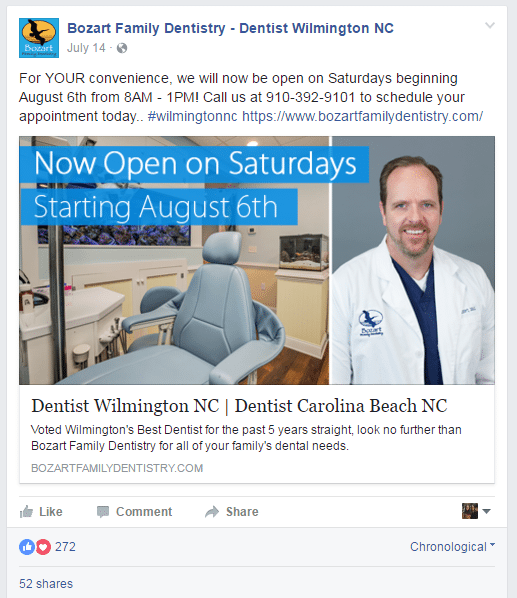 Using this process, you'd be able to achieve the following estimates with a properly executed campaign:
$2,000 monthly ad spend (minimal amount I recommend)
100,000 people reached per month
10,000 engagements (10% 10-second views)
250 leads
40-60 clients / month
Let's say the average client visits twice per year, spends $325 each visit, and stays as a client for five years.
That means the average client has a lifetime value of $3250.
Let's say $3,000 for the sake of simplicity.
50 clients / month attained from Facebook Ads would then mean that you're growing your business's value by $150,000 every month.
After 1 year of advertising, that's $1.8 million in value coming from Facebook alone. When you combine it Google AdWords (another $1.8 million), the combination is absolutely lethal.
In the next e-mail, we will be discussing how to put everything you've just learned into practice and use it to grow your business 400% in 5 years.
Stick around!